Posted on March 2, 2020 at 2:25 pm
By: Joya Stetson
American Family Insurance is a long-standing agency that provides home, auto, commercial, rental and life insurance. Many customers may recognize the Stewartville branch from when it was owned by John Senjem for over 20 years; Arment and Associates purchased the business and began serving clients approximately four years ago when Senjem retired.
Arment and Associates is one of the largest insurance firms in the State of Minnesota with 11 employees and three locations (Rochester, Kasson and Stewartville). They currently manage over 11,000 policies and ¼ of those come from the Stewartville market!  Conveniently, clients can stop into any of the three branches to receive assistance.
While it is a part of a larger company, the Stewartville American Family Insurance office is primarily served by Tyler Welhaven. Welhaven was born and raised in southeastern Minnesota and describes himself as "a normal guy with business in [his] blood." His grandfather started a business 75 years ago in Rochester, and his family has been running it ever since.  Welhaven has lived in Byron, Rochester, Winona and now resides in Stewartville where he is available for clients at their Main Street office on Mondays, Wednesdays and Fridays from 8:30 a.m.- 5 p.m.
Welhaven shared that as a resident himself, he enjoys visiting with the clients in Stewartville.  He is able to build relationships with his fellow community members and get a unique look into their lives. "You get to be a part of big events," Welhaven expressed. "You become a part of their family because you're protecting what they worked so hard to gain."
And understanding how to help people feel protected is at the heart of American Family Insurance's mission.  The Company focuses on "inspiring," "protecting," and "restoring" because there is often a lot of hesitation in dreaming big or trying something new. A significant amount of thought and planning go into large scale, calculated decisions and purchases; American Family Insurance hopes to give clients the confidence to attempt whatever their dream might be knowing that they will be able to resume normalcy in the unlikely event that something goes wrong. Welhaven says its more than just providing protection, though.  "We put family in our name for a reason," he said. "Even though it's a large company, what sets us apart is that we have a local agent that knows about you, your life and the things that matter to you. We truly see our clients as family and believe that the small things matter—our office will even wish you a happy birthday!"
Welhaven feels that the most rewarding part of his job is helping to provide people with peace of mind through insurance. "Most people don't know much about insurance, but it's important," he explained. "I love when I see the lightbulb turn on as people understand the way their policy works and I get to visualize the peace of mind that comes over them when they feel protected."
Welhaven added that his office doesn't just "take orders" like a restaurant.  They would rather work with and advise clients so they can make an informed decision based on their needs.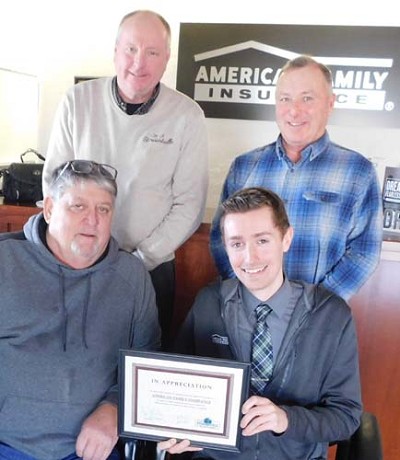 Picture Credit: Mark Peterson
Stewartville Star